So you've dug your way into the world of habit formation. You've read some articles, maybe even books. You've tried to implement some tools (like habit tracking apps), insights, or advice that you got, but you just can't seem to make habits stick.
Habit formation remains a difficult thing to deliberately do. But there are things that can make forming habits way easier. One of those things are habit tracking apps. That's why we'll go over the 6 best habit tracking apps for 2021 so you can start the year strong!
A quick note before we go into the best habit tracking apps. This post is not sponsored by the apps involved. The habit tracking apps included here are rated based upon personal opinion and reviews.
Let's get into it!
What is habit tracking?
If you haven't yet dug deep into the world of habit formation and with that, habit tracking, don't worry. We'll quickly explain why habit tracking is such a powerful tool and what it is exactly.
Put in the most basic way, habit tracking is a way to keep your habits on track.
Yes, very funny. But that's essentially what it is.
Some more explanation is needed, though.
Habit tracking enables you to measure whether you did a habit or not. A good habit tracking app also shows how long you've been doing a certain habit, if you've maybe skipped it once or twice and some habit tracking apps will even penalize you for not sticking to them – sometimes in a painful way as you will come to find out shortly.
Why should I get involved in habit tracking apps?
Fair question!
Well, habit tracking apps unconsciously create triggers for you to spend time on the habit that you're trying to form. Think about it. You'll go to the app of your choice multiple times a day to check off tasks that you've completed or simply to see what you still need to work on.
This in itself is the formation of a habit. Repeat it enough times and you will catch yourself checking up on your habits regularly.
Another great thing about habit tracking apps is that they generally are attractive. What we mean by this is that you can see the progress, which will motivate you and allow you to focus on the small wins in your life!
Imagine seeing a 100-something day streak on a habit that you couldn't seem to form before. You don't want to break it, right? Look at all the work you've put in! And so, one habit turns into the next and before you know it, you're addicted to forming habits!
The last ''why'' we want to give you for habit tracking apps is that it makes you focus more on the process than the outcome. Focusing on the journey might be a cliché, but it couldn't be more true.
You won't work on your goals sustainably if you're focused solely on the outcome. Instead, you should focus on the process and performance with regard to your goals and habits. You can read a bit more about how to properly set goals for your habit tracking apps – or life in general – by going here.
The 6 best habit tracking apps – and why they're so good
This list consists of the best habit tracking apps with a clear unique selling point – most are free or freemium. So the point here is to offer a wide range of functionalities so everyone can have their cup of tea. That's also why there isn't a specific order to this list. Let's get into it!
1. The standard calendar app on every mobile device
Whether you've used it – extensively – or not, everyone knows and has the standard calendar app on their phone, laptop, or other devices. You might think ''it's just a calendar, how is it going to help me track my habits?''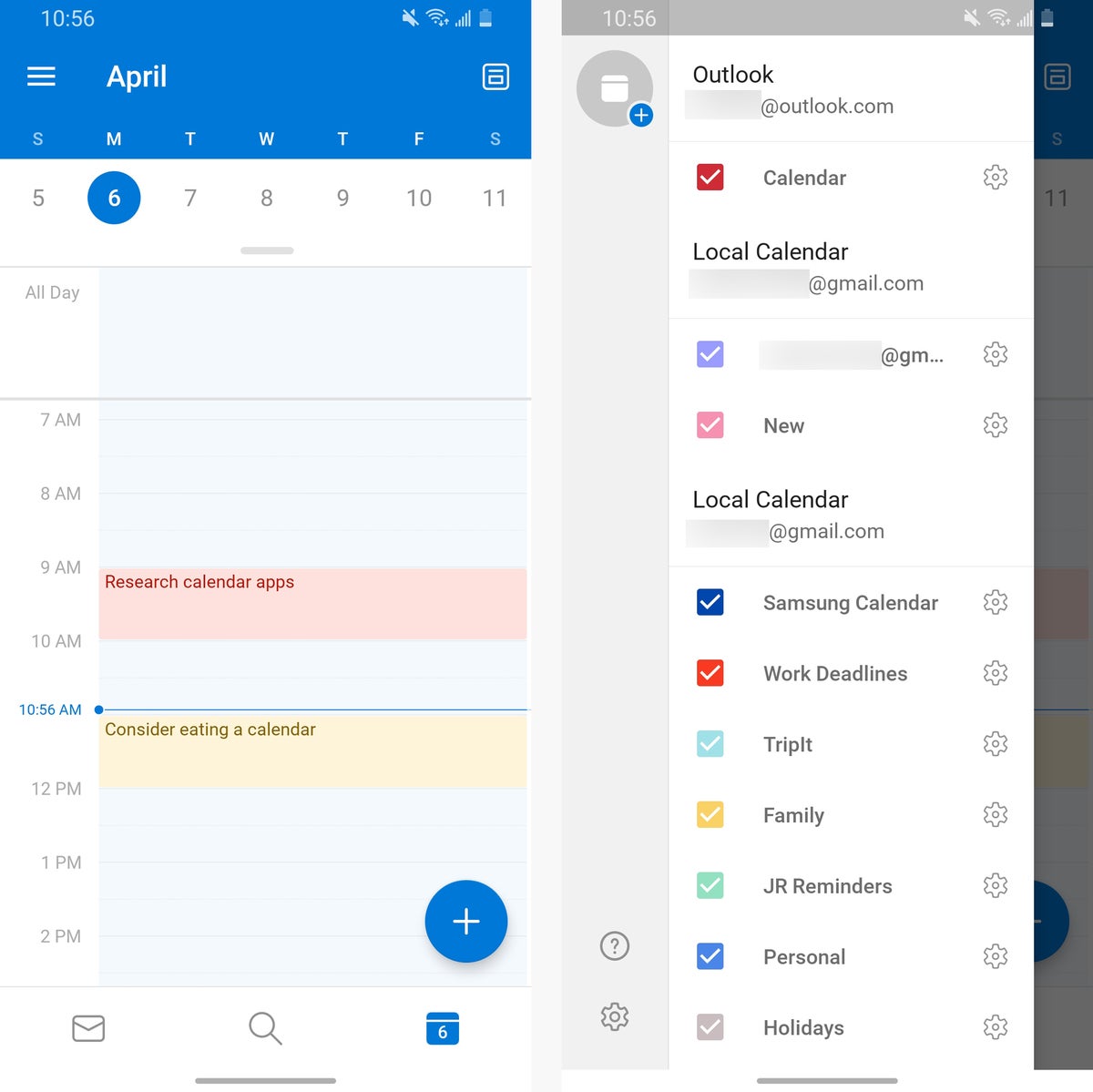 Well, there are a number of ways you can do this by using the calendar app. It does, however, take a bit more manual work to keep organized compared to the other habit tracking apps.
As with any habit tracking app, you're going to input recurring tasks of things you want to make habitual. Instead of ticking the box when you've completed the task for the day, you remove the calendar input for that day.
At the end of the day, you should have no inputs left on your calendar. And if there are still some left, you know that you haven't been successful in forming the habit and this shows when you go back and look at all the days that have passed since you began tracking!
Pros:
The main thing we like about the calendar apps – both on iOS and Android – is that they are easy to use and everyone has it. Some, if not most of the habit tracking apps require you to get used to the way the system works.
This isn't a big deal at all, but when you're just starting out and when you're having a hard time forming your desired habits, then starting with the calendar app might be a wise choice!
Cons:
The actual tracking of the habit in some cases might be a bit cumbersome. You can't immediately see a streak of how many days you've managed to stick to a habit. There are no analytics at all for that matter, which makes the tracking part a bit harder.
All in all, we recommend this app mostly for people who are just starting out in the world of habit tracking and habit tracking apps.
If you're into gaming, like RPG's (Role Playing Games), or simply like some extrinsic motivation on top of the intrinsic, Habitica is for you!
With Habitica, you're able to upgrade your character with the coins, experience, and items you get when you complete daily tasks, which make up your habits.
You can set up different kinds of tasks; dailies, habits and there's also a to-do list. So you could practically plan anything and everything in this app if you feel like it – it will get you more coins!
It has most of the functionalities you'd expect from a habit tracking app in 2021 and more.
Some of the functionalities – both expected and unique to a habit tracking app:
You get reminders
The ability to see streaks
There's a community of 4 million people to help you
You can join guilds and parties to take on quests together
It's a game!
The community that's available is divided into many subcategories. There are groups that focus mainly on habit formation, others on productivity, mental health, relationships, school, and the list goes on!
This community aspect can make you friends, but most of all it creates some form of accountability, which can be a tremendous motivator in striving for your goals and habits.
The gamified way of making habits creates an extrinsic motivator as well. Usually, extrinsic motivation isn't something you should go for, but when it's paired with intrinsic motivation – the internal longing to strive towards your goals – it can have a great effect!
You can read a bit more about motivation here, if you're interested.
Cons:
The biggest con for Habitica is that it seems to miss notifications every now and then. This isn't a problem if you check the app a lot, but it's not something you like to see.
You also might become a bit overwhelmed in the beginning. There are a lot of functionalities to Habitica, groups you can join, quests to buy, activate, and complete, pets to use, feed and upgrade, and so on. However, if you start with the basic habit tracking, which the app is meant for, you'll make it through!
Available for iOS and Android!
The idea behind Beeminder is pretty straight-forward. In order to stick to your habits, you're going to be charged real money when you're not completing your tasks.
The first time you miss something it's free, but every time you're not completing your tasks after that, Beeminder will charge you more money every time you miss it.
This might seem a bit harsh to some – I know it sounded harsh to me – but some people need this kind of reinforcement in order to stick to their habits.
Pros:
Beeminder shows clear graphs of the progress that you're making. It also simply is a straight-forward way of getting you to stick to your habits and commitments, especially for people that struggle deeply with this.
After all, losing money is psychologically painful. Even more painful than gaining the same amount so you'll want to avoid it.
Another big pro is that Beeminder can be integrated with a lot of different apps as you can see below (hey, there's Habitica again).
Cons:
It costs money!
There's no other significant downside to Beeminder aside from the fact that you need to use it in a browser if you want full functionality as the app doesn't offer them all.
Beeminder has to be something that appeals to you or seems like the only way you can make your habits stick. Otherwise, we'd recommend at least trying some of the other apps on this list.
Oh and Beeminder is available on both iOS and Android!
Timecap does everything you want a habit tracking app to do in 2021. The thing that makes Timecap so good is its clean design with clear data to analyze. You see percentages, streaks, averages, and are able to customize your goals and habits to a greater extent than most other habit tracking apps.
As you can see from the images, there's a bunch to customize. You can add different colors to your habits and tasks to make them visually more appealing, but this also instantly clarifies what type of goal it is for you.
Pros:
As of now, Timecap might seem like a 'meh' choice for a habit tracking app. However, this app is rated as the highest on both the App Store and Google Play Store!
Reviews show that the user interface is very well done and that the ability to relatively easily customize a lot of different things is also a great plus.
Not a lot of habit tracking apps seem to be this clean in terms of design and functionality!
Cons:
Despite its high rating, no app can escape negative reviews. In Timecap's case, the con is that there is no option to 'pause' habits. When you're going on vacation or whatever thing happens that justifies you not doing something you have to remove the input from the app, also removing any analytics that are connected with it.
Available on iOS and Android!
HabitYou is, as the title says, a minimalist habit tracking app with a journal inside. The journaling is also what gives HabitYou its unique advantage over other apps.
The minimalist design makes it easy to understand and use. You're also given clear analytics in the form of a graph, streaks, and trends.
Another thing that we haven't seen before in habit tracking apps is the ability to add photos. This is a nice addition to personalize the efforts and keep yourself accountable!
Pros:
An easy to understand, minimalist design with the addition of being able to add photos and journal inputs. HabitYou also has clear analytics in the form of graphs, streaks, and trends.
Cons:
You can't see progress that's over three days old with the free version, which doesn't have to be a big deal but does diminish some of the goodness that the analytics provide you with.
Available on iOS and Android!
Strides is the most data-driven habit tracking app for 2021. If you love data, you love Strides. This can be a bit overwhelming at first, but when you get the hang of it Strides can be even more productive and 'habit forming' than the other apps in this list.
In the app, you can see how far you still have left to complete the goal you set for your habits. You can see averages and manage progress on projects easily. This enables you to make changes when some things just aren't working and you'll see exactly where it went wrong.
Oh, you also receive reports and trends based upon your input in the app!
Do keep in mind, though, that complete functionality of the app requires a paid subscription. But the free version offers you plenty of functionality to start and see if it's for you!
Pros:
Strides offers a lot of data enabling you to see where things went wrong – if they went wrong. This can be a big motivator or wake up call for you to work harder, keep going as you are, or simply change things up.
Strides has a clean design and a bunch of functionalities, which support habit formation and make sure you reach your goals!
Cons:
All the data can be overwhelming, making it a bit harder to understand and get used to the app and its functionalities.
Available for iOS (and web) only!
The habit tracking apps that didn't make the list
There are countless habit tracking apps out there available for both iOS and Android, making the list way too big if we were to cover them all. A lot of habit tracking apps also have the exact same functionalities as others, but with little tweaks and a different look and feel.
We've covered the ones with the most unique and useful features, but we still have a few honorable mentions left for you.
Honorable mention 1, Habitify
Habitify, on first sight, seems to be better than HabitYou as it offers the same, but with better data. However, Habitify seems to have some issues regarding customer service which makes it score pretty low according to customer reviews.
All in all, definitely worth giving a shot if the previous habit tracking apps didn't speak to you deeply enough.
Available for iOS and Android!
This one needed to have a place somewhere. Forest is another way of gamified habit tracking. By progressing in your habit formation, your in-game trees grow. But if you spend in-game coins, you're helping to actually plant trees. How cool is that!
The functionality of the way the 'game' is meant to be played does seem to have some easy ways around it so your trees don't die. This, ultimately, defeats the purpose of the app for a group of people, making it not rank in the initial list.
Available for iOS and Android!
In conclusion
As mentioned before, there are a ton of habit tracking apps available for everyone. That's why this list might not cover the perfect choice for you. But we believe that in the habit tracking apps that we've mentioned, there's a reasonable starting point for everyone to start tracking their habits and making changes in their life!
These apps can serve as a virtual accountability partner, but you can also get a real one to help you build habits! You'll learn all about it in How To Form Habits With An Accountability Partner!
We strongly encourage you to do a bit of digging and testing yourself to see what works best for you. After all, sustainable change only comes from within, not from what other people tell you to do.
Stand behind the choices you make and you will achieve your goals, for sure!
One last tip for setting the goals and deciding which habits to put into the habit tracking app of your choice. Go here and download the 2021 Goals, Mission & Vision Template for free! These habit tracking apps also help you to become productive as is explained in this article. Read it, take action and see your productivity rise up!
Now you're all set to go and make your dreams a reality!
Thank you for spending some time with us today, we really appreciate it!
If you haven't yet, follow us on our social media channels by clicking the icons on the screen. Leave us a comment providing feedback or simply let us know which app you're going to use.
Also, please consider sharing this article to help anyone you know reach their goals and form the habits they wish to form!
Once again, thank you for being with us and as always,
Until next time!